Educational Certificate Apostille in Ahmedabad
Legalizing educational documents for usage abroad is accomplished through the academic certificate apostille process in Ahmedabad.
It is a crucial stage for people who intend to study abroad, look for work abroad, or engage in any professional activity abroad.
The apostille is a certification that confirms the legitimacy and authenticity of the academic credential. It guarantees that the document is recognized by foreign authorities and acknowledged as legally binding.
The apostille certificate must first be affixed to the educational credential after it has been confirmed by the issuing authority and authenticated with a stamp or seal.
The government-designated competent authorities in Ahmedabad do the apostille of educational documents. These organizations are in charge of apostilling documents and examining academic credentials.
The designated authority must receive the original educational certificate and supporting documentation to complete the process.
Documents required for Educational Certificate Apostille in Ahmedabad are as follows:
Original Documents

Copy of Passport
After being apostilled, the educational credential gains worldwide recognition and can be used in any country that has ratified the Hague Convention.
The legalization process is accessible by this standard, eliminating the need for extra authentication by foreign consulates or embassies.
For those who want to pursue higher education, look for a job, or engage in professional activities overseas, the apostille of educational diplomas in Ahmedabad is crucial.
Important Steps in Apostille Stamping
SDM (Sub Divisional Magistrate) or SDM-WNR (Will depend upon destination countries).
Apostille.
It ensures that foreign authorities acknowledge and recognize their educational credentials, boosting their possibilities and mobility in the international market.
The apostille of educational documents in Ahmedabad is an essential procedure that guarantees the acceptability of educational credentials in other nations. People can confidently pursue their academic and professional objectives abroad by acquiring the apostille certificate, knowing their documents are legally binding and widely accepted.
We offer educational certificate apostille in Ahmedabad and numerous other apostille and attestation services throughout India. So, if you need any attestation services, kindly get in touch with us.
Locations of our Educational Certificate Apostille Services in INDIA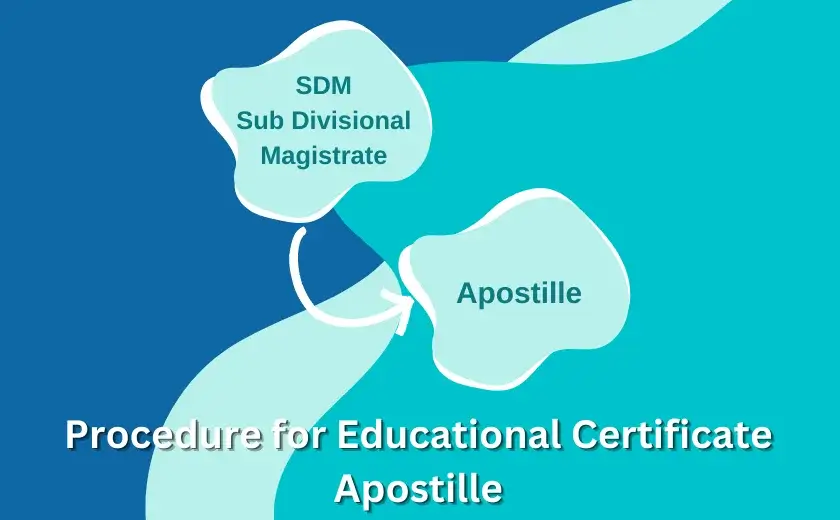 Purpose of Certificate Apostille