HSC Certificate Apostille
HSC certificate legitimated or validated through Apostille check is known as a HSC Certificate Apostille. The Higher optional testament is an extension of HSC, school authority is the obligatory head of giving this sort of declarations. HSC authentications will make the understudies qualified for advanced education or graduation likewise from inside and outside of the nation of origin.
Apostille is a confirmation and it can make your certificate eligible for international usage. In HSC Apostille the concerned authority will attach an Apostille stamp on the backside of the document. Hague convention countries are the exponents of this Apostille authentication. Apostille Attestation will give more reliability to your certificate and it also increase the credibility of the certificate. To achieve an Apostille attestation the applicant should face so many legal proceedings.
Required Documents for HSC Certificate Apostille:
Original HSC certificate.

Passport Copy of the Certificate holder.
Destination country's Apostille authentication will provide more security and safety for your HSC certificate . Every Hague convention member countries ask this authentication from the immigrants to make their document applicable in their country. Before this verification process the concerned authority will check and ensure the credibility of the certificate. It will make your Higher secondary certificate appropriate to be shown in front of the destination officials. HSC documentation is used for many purposes.
Brilliance Attestation Overseas provides a hassle free hsc certificate Apostille to our clients. Our performance rate for this service is par excellence and the team is able to complete the process without any delay. Since the process of hsc certificate Apostille does not require physical presence, documents can be submitted in original via courier / registered post. We also provide MEA and Embassy attestation after hsc certificate Apostille by state HRD department.
Purposes of HSC Certificate Apostille:
Higher education is the main aim of this legalization.

It also needed for attaining job opportunities from the destination country.

Migration purpose is also an aim of this HSC Apostille.

It is also necessary for resident visa purposes.
Procedure for HSC Certificate Apostille
SDM (Sub Divisional Magistrate) or SDM-WNR (Will depend upon destination countries).
This recognition is a legal necessity to prove that the custodian of records carries the original document. The hsc certificate Apostille is a necessary requirement to achieve common needs and opportunities. Through this procedure, the certificate holder can prove the authenticity of the certificate in the field of applying.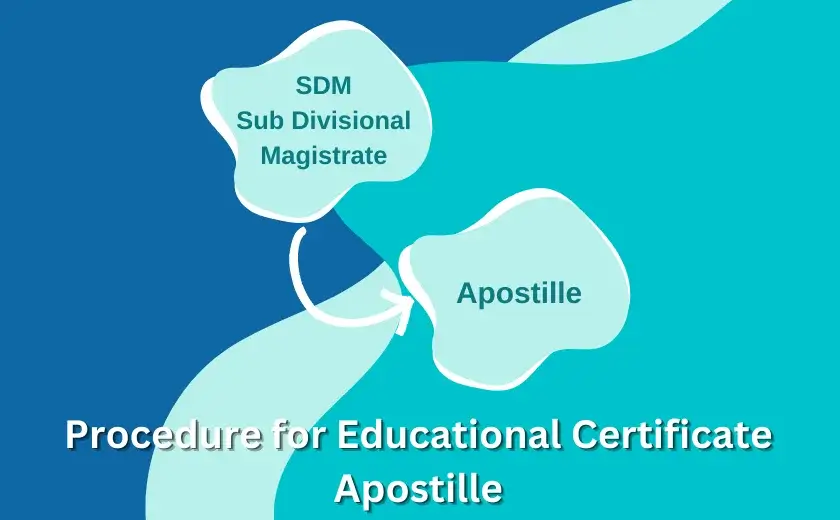 Purpose of Certificate Apostille