SSLC Certificate Apostille
A secondary School Leaving Certificate, or SSLC, is each Indian citizen's first and most basic certification. However, to obtain an SSLC certificate, candidates must pass the 10th board test administered by the Indian government, which is also considered a must for all students wishing to pursue higher education.
However, using one SSLC certificate outside of Indian government limits is a little bit challenging. It needs to be verified to utilize the SSLC certificate in any international field. Additionally, if you intend to use your SSLC certificate in any Hague Convention country, it must be authenticated through the Apostille stamping process.
The technique is referred to as SSLC certificate Apostille. Your SSLC certificate will become more credible through the apostille process, which also allows you to increase the certificate's credibility outside of Indian borders.
The SSLC certificate will include all pertinent information about your 10th-grade education, including your name, age, religion, address, school name, year of study, and grades or marks you received. The two necessary conditions for this apostille strategy are the applicant's international passport copy and the original SSLC certificate.
Below is a list of some justifications for obtaining an Apostille for an SSLC certificate:
Indian students generally verify their SSLC certificates for higher education needs.

Additionally, an Apostille for an SSLC certificate is required for visa applications.

For migration-related purposes, this verification is also necessary.

Every Indian should obtain an Apostille for their SSLC certificate to work in a Hague Convention country.
Nearly most of the Hague convention nations require an apostille for SSLC certificates. All Hague Convention signatory nations use this confirmation to determine whether emigrants' SSLC certificates are reliable.
Obtaining one from a country ratifying the Hague Convention is also necessary. Indians get an apostille for their SSLC certificate to change their visa status. Apostille is authentication that gives your certificate greater authenticity. The destination officials are glad to permit your entry into their country after the Apostille procedure on your SSLC certificate is finished.
The original SSLC certificate and a copy of your passport are the prerequisites for applying for an apostille. Many international areas, including work, finance, education, private, and others, require SSLC certificates. Additionally, which will aid immigrants in seizing their opportunities. It will help the destination's authorities locate the fraudulent SSLC certificates.
The essential steps to stamping an Apostille on an SSLC certificate are listed below:
SDM (Sub Divisional Magistrate) or SDM-WNR (Will depend upon destination countries)

Apostille
The most critical component of this verification is the apostille, which is square and adhered to the document's back. However, the country issuing the stamp will determine its design. Today, the Apostille process for SSLC certificates is used by roughly 92 Hague Convention countries to confirm their authenticity.
In the target country, migrants might use this method to fulfill their personal and professional needs. Attesting your certificates is an absolute legal requirement to meet or face to enter the target country.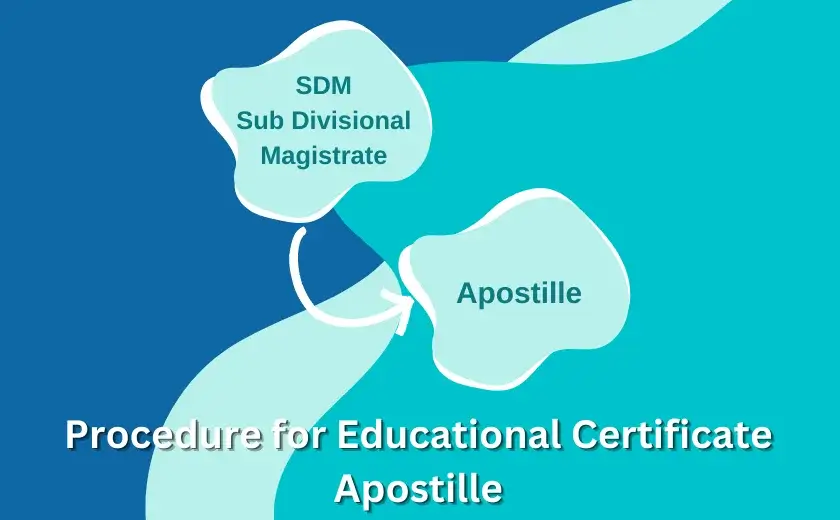 Purpose of Certificate Apostille